Being one of the first Company's in its locality to import and operate
a number of small stump grinding machines. MJM has always been the
first to use new products and techniques. MJM still run a number of small
tree surgery teams working mainly in the Kent and South East.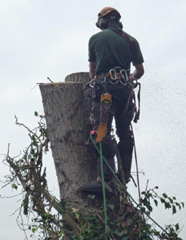 This compliments the main core of the business
being large scale tree clearance operations.
MJM are able to offer a complete package of
works to its clients ranging from delicate
arboricultural works through to major forestry
and site clearance operations.
With over 23 years experience we excel in dealing
with all tree problems large or small and offer
customer care which is second to none.
SERVICES PROVIDED:
Felling, Tree Surgery, Stump Grinding, Cable Bracing, Hedging,
Domestic and Commercial, Dangerous Tree Felling, Wood Chipping.
Approved by many Local Authorities